Cheshire Animal Hospital was established in 1973. It was created according to standards set forth by the American Animal Hospital Association (A.A.H.A). Only 17% of animal hospitals in the United States are certified by this prestigious organization, which inspects members every three years to verify their continued adherence to strict protocols and procedures. We are very proud of our designation as an A.A.H.A. hospital and of our record of excellence in medicine.
Dr. Lee A. Pearson purchased Cheshire Animal Hospital in 1987, five years after Lee received his DVM from Kansas State University. Prior to purchasing the clinic, Dr. Pearson practiced both large and small animal medicine in Stowe, Vt. and Walpole, NH. After 12 years of large and small animal practice in Keene, he made the decision to focus 100% on small animal medicine in order to stay current with the latest advances in the veterinary field. Our doctors and staff attend continuing education programs throughout the year in order to stay on top of their professions.
We at Cheshire Animal Hospital feel privileged to provide care to the incredibly special pets in the Monadnock Region. Our caring staff is made up of employees who are dedicated, compassionate, highly-skilled and knowledgeable about their field. We look forward to coming to work each day and we love the challenge of practicing the highest quality medicine possible. We often hear from clients and visiting professionals that C.A.H. staff members are the best of the best! (We have been voted the Best Veterinary Hospital in the Monadnock Region for 11 consecutive years. Thank you to our clients for that honor)!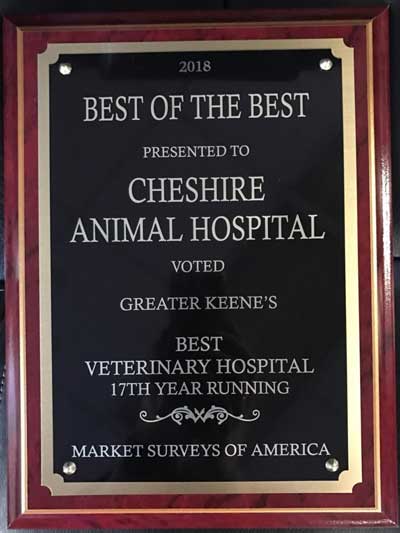 Lastly, we are proud to be a part of the community. We feel that because our clients bring their pets to us, we have an obligation to give back to the community. We work with nearly a dozen rescue organizations across the state, and we gratefully support local charities who provide services to the residents of the Monadnock Region. This is our family, and we would love for you to join us.